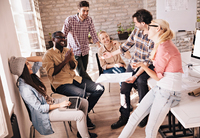 Gaurav Tuteja
Nickname: None
My Show: Did few times "lassi with jassi" & Sunday Ke Funday
Favorite Destination: Amsterdam
Favorite Pastime: Browsing YouTube Videos
My Passion: Organising events
My Goal in life: Make life easy for myself and for people around me
What Inspires Me: Feeling of Success
My Likes & Dislikes: Likes:- exploring different restaurant/bars
Dislikes:- negative people
More About Me: I am easy going and ambitious. Want to make full use of this life.
I'm with DJ Because: Like the energy in DJ members, inspires me to work hard
What is very precious to me: Relationships and family
Signing off Answer: Today is the day, make full use of it.